The organization
EcoCycle Corporation is a Japanese venture-capital company located at Nihonbashi Hamacho Bild., 2-28-1 Nihonbashi Hamacho Chuo-ku, Tokyo.It was founded in 1999 May, mainly to concentrate on environmental business. Since then, its team of dedicated engineers and scientists have been developing cutting-edge technologies for environmental remediation and recycling of organic solvents in semiconductor industries. Throughout its growth, EcoCycle has been granted with various research funds by the Toyama local government and central government of Japan. Today, we are one of the proud members of leading bioremediation companies in the country.


Our current businesses involve

Producing bioremediation agents that are applied to clean the soil and groundwater contaminated with chlorinated solvents and hexavalent chromium.



Producing organic fertilizer and microbial based biofertilizers for organic farming of cereals, vegetables and fruits.



Unique on-site emission analytical techniques for semiconductor industries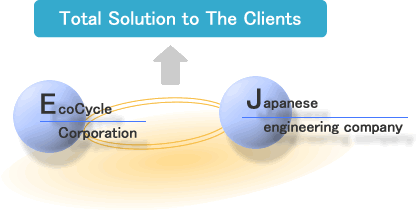 Japanese engineering companies
We have extensive network of engineering companies in Japan. These companies, including the Super General contractors, are experts in various environmental engineering techniques. They have extensive experience in site investigation and remediation of contaminated sites.