Field results of EcoClean and EcoClean-M application
| | | |
| --- | --- | --- |
| | | |
| | EcoClean series have been widely applied on more than 500 sites in Japan, the US, India and Thailand. | |
| | | |

EcoClean being applied to treat source area at Newport, New Hampshire

EcoClean Field result : Site A
| | |
| --- | --- |
| | Located in Kyushu, south of Japan. |
| | Hydrogeology in brief: weathered sand stone and mud stone, silty clay. The hydraulic conductivity varies with location between 10-4 to 10-6 cm/sec. |
| | Pretreatment: Pump and treat was done for several years. In spite of that the contamination (TCE and cis-DCE) concentration was more than 100 times the environmental standard (TCE 0.03mg/L,cis-DCE 0.04mg/L). |
| | EcoClean injection: EcoClean was injected with special grouting technique under moderate pressure. Within 8 months of EcoClean injection the contamination concentration fell below environmental standard. Post remediation monitoring was done for 2 years to confirm no rebound in the groundwater concentration. |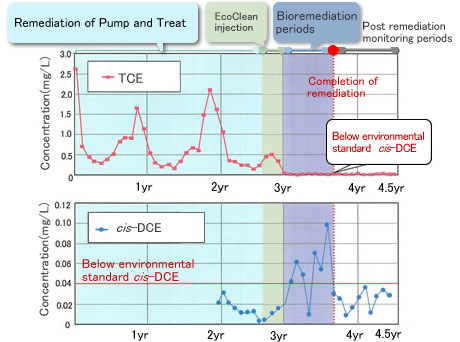 Field results of EcoClean-M:
Site location: Ibaraki prefecture, Japan.
Area: Approximately 10,000 m2
Hydrogeology in brief: Unconsolidated unit of gravel underlying loamy soil with hydraulic conductivity varied with depth from 10-2 to -410 cm/sec.
Bioremediation: EcoClean-M was injected under gravity after diluting in water. Within 30 days after injection the groundwater contamination concentration dropped below environmental standard (0.05mg/L) at more than 20 monitoring wells. Post remediation monitoring was carried out for more than 2 years to confirm no rebound in contamination concentration.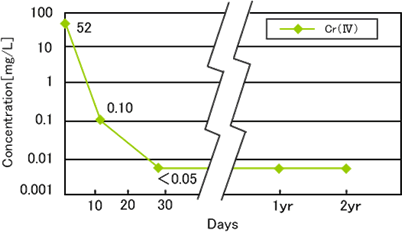 Site: Kampur, India

Successful remediation of groundwater contaminated with Hexavalent chromium was demonstrated with injection of EcoClean-M at Kanpur, India. The demonstration was funded by the Blacksmith institute ( homepage ) and was monitored by Central Pollution Control Board under the Ministry of Environment and Forest, India.
Click here for complete report